Damian Darlington – Brit Floyd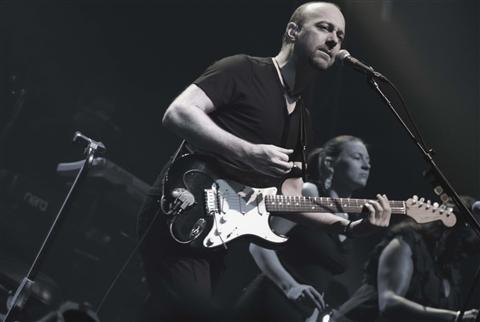 Brit Floyd is hitting the road with a bigger and better show called 'Discovery'

We are starting in March 2014 and heading across the USA and Canada.

What are some of your favorite venues that you are planning on going to?

Somewhere toward the end of June, we are going back to Red Rocks Amphitheater outside of Denver, Colorado. This will be the third time we've played there and it is truly an amazing place to perform. I am really looking forward to that.

You recently recorded a DVD at Red Rocks during the 2013 tour, didn't you?

Yes we did. We are putting the final touches on the DVD to get it released.

With such a catalog of Pink Floyd songs, how do you choose what songs make the set list?

It is not an easy task. We play such a long show that we are able to accommodate many songs that people want to hear. We play almost two and a half hour show so it does give us a lot of time fit in as many songs as we can. There are certainly tracks that have to be in there such as 'Comfortably Numb', 'Another Brick In The Wall', 'Wish You Were Here' and 'Shine On You Crazy Diamond'. The theme of this tour is 'Discovery' which is the name of the recently released box set of Pink Floyd's studio albums and the idea is to play at least one song from each of these albums. We are really trying to give people a taste of all eras of Pink Floyd's music as well as play the greatest hits too. We think we really have come up with a really good representative set list and there is something for everybody.

Do you help with the computer animation during the show?

To a certain extent, yes I do. There is a chap near Los Angeles who produces the CDI animation and video work for the show but I do work closely with him on what kind of ideas we want up on the screen to accompany the music. Obviously we are referring to classic Pink Floyd imagery that people are familiar with but we try to put our own spin on it by adding 3D images of classic album covers and stuff. It is something that I am very interested in besides the music.

What was the Pink Floyd Album that opened your eyes to the creative genius of Pink Floyd?

It would have to be 'The Wall'. I was just the right age when it came out being around twelve or thirteen years old when I heard 'The Wall' and I just grasped on to it and it kind of spring boarded me to discover all the rest of the Pink Floyd music. That album is such an amazing album and I never tire of playing songs off of it and listening to it.

Have you considered performing 'The Wall' in its entirety like Roger Waters just did on his last tour?

I have done that in the past when I was performing with 'The Australian Pink Floyd Show' and I would love to do that again with Brit Floyd. I guess we are just waiting for Roger Waters to get out of it since he's been performing it for the past three years so maybe in a couple of years we will do that.

You had the experience of performing with the late Rick Wright at David Gilmour's 50th Birthday party. How did that come about?

That was back in the 1990s for David Gilmour's 50th Birthday party. I was lucky enough to be asked to perform an hour set of Pink Floyd music and the climax was 'Comfortably Numb'. Just before we played that song, Rick Wright came up on stage quite quietly and shyly and asked if he could play keyboards with us. It was an amazing experience to play with a founding member of Pink Floyd.

What was David Gilmour's reaction to the set?

David was having himself a good time! It was his party, after all. It was his idea all along to invite us to perform at his party. One of my fondest memories of the night came when during the guitar solo in Comfortably Numb at all the Pink Floyd concerts a huge mirror ball comes down from the ceiling and all the lights shine on this spinning mirror ball. When that time came, David was in the back of the room at the lighting desk saying 'Put the lights on now! Put the lights on now!… light up the mirror ball!!'. I was told about this after the show. It must've been a funny experience for him to be out front listening to his music being played for him.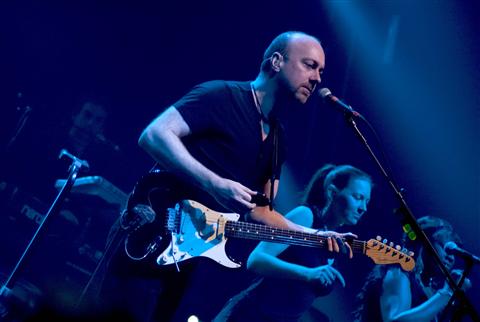 Going back, what was your first guitar and the first song you learned to play?

Wow… That was a long time ago! I remember getting an acoustic guitar for Christmas when I was ten or eleven years old. I really don't remember what the first song was but at the time I was really into Mike Oldfield. I'm not sure if anyone is familiar with him in the USA, but he had an album called 'Tubular Bells' which they used in the movie 'The Exorcist' and I was learning a lot of music that he created so I would think that it would be something from Mike Oldfield.

During 'Great Gig In The Sky' the solo vocalist, Ola Bieńkowska, absolutely wails the song perfectly. Where did you find her?

Ola is originally from Poland but was going to a music college in Liverpool called 'The Liverpool Academy of Performing Arts' which Paul McCartney is a patron of and had a hand in creating. Many talented musicians have graduated from that college and have had time with Brit Floyd. That is where we found her.

Hailing from England, did the Beatles play a part in your musical influences?

The Beatles have had an influence on everyone who plays popular music. They have been in the background for many for the last forty or fifty years. Aside from the Beatles, my influences have been bands like Rush, Genesis, Yes and other Prog Rock groups plus Mike Oldfield as I mentioned earlier.

Has there been any change in the lineup for musicians in Brit Floyd from last year?

There have been some changes with the backup singers and a new keyboardist that will be joining us this year. The tour is so long this year, playing 75 shows in the USA that not everybody can be with us for the entire tour. We have a couple musicians on standby that can come in and take over if need be.