Hailing from Prince Georges County Maryland, Rich Eckhardt soaked up every imaginable style of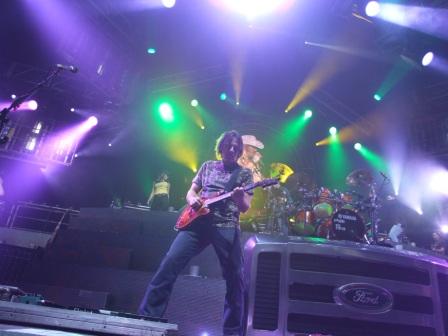 music possible so when he made his big move to Nashville in 1989 he would be prepared for anything. His first gig in Nashville landed him where every aspiring musician strives to be… on the stage of the legendary, world famous Grand Ol' Opry. From there his career has been a steady life of touring and recording with artists including John Berry, Becky Hobbs, Rodney Atkins, Steve Azar, Eddy Raven, Mel McDaniel, Blake Shelton and his current assignment, Toby Keith. Rich has shared the stage with legendary performers such as Sammy Hagar, Ted Nugent, Derek St. Holmes and countless others. Defining the country music scene by signature riffs, hook laden melodies and just damn good music, Rich is a bridge between rock and country, classic and current. Rich just brings all things that are good in music and put's it in one package. I had the privilege to talk to Rich and get to know a little bit more. Ladies and gentlemen, Rich Eckhardt.
How are things going for you?
It's been going great. I just recently bought a house and I have been living the 'rock star' lifestyle that I owned it for a couple months before I even stepped foot in it!
How did you get involved with Toby Keith? How did it all start?
That whole 'Toby' thing was pretty simple. He needed a guitar player and I needed a gig! And then the two came together. That's the Readers Digest version! At the time, I had built a reputation around town and when he was looking for somebody, my name came up. He wasn't familiar with me but one of the guy's in his band was and he recommended me. Toby is kind of funny… he doesn't go through the whole audition thing. If someone recommends another, he will throw him in there and if he works out, great if not, he'll get someone else. If you get the job, it's yours to lose.
What is your favorite song to perform?
That is such a tough question that it is hard to say. I really like so much of the music. Usually, it is whatever songs is newest; whatever is fresher. I am not saying that the other stuff is stale, because I have played 'Should've Been A Cowboy' every single night for the past ten years and I light up every night during that song.
How long have you been playing guitar? What was your first guitar and what was your first song learned?
I have been playing for 38 years. The first guitar that I had was a Bradley acoustic guitar that came out of the Sears Catalog or something like that. The first real good guitar I got was a Guild S-100 which is similar to a Gibson SG in its body style. It is all mahogany.
I actually still have that guitar. The first song I learned would probably be 'Walk, Don't Run' by The Ventures.
Who has been your guitar influences through the years and what inspired you to play guitar?
Originally it was bands like The Beatles and The Monkees. I just loved the way the guitars sounded on those records. Of course through the years you pick up different influences as well. After I started playing guitar, I was getting into The Doobie Brothers and Bachman Turner Overdrive. It seemed that many of the bands I was listening to were the more guitar driven bands. A lot of the bands that became popular in the 1970's had such a hard guitar tone and very 'guitar driven' songs. As I matured in my guitar playing, I started getting into the more flashy guitar players like Steve Morris (Dixie Dregs), Alan Holdsworth and Steve Vai. So, I think as my playing progressed, so did my influences.
How do you approach song writing? Many of Toby Keith's hits songs include an easily identifiable signature intro guitar riff. How do you come up with riffs like that?
That really goes back to the Doobie Brothers stuff. That music, to me, isn't about the lyrics. I have no idea what they are singing about. When you listen to 'Long Train Running'… even if you sit down and write out the lyrics, I still don't think I would know what they are talking about! What that song is all about is the guitar riff. To me, that would be the most important thing. Ted Nugent was the same way… I think many rockers in that time wrote the song around the riff and the lyrics were secondary. They would write the riffs, throw in some melody and put whatever lyrics fit.
What is it like to have a featured photo on a billboard just outside of Nashville welcoming folks to Music Row?
(Laughing) It was thrilling. The prospect of being on the billboard was very exciting. It is funny, because when I finally went downtown and saw it, I was like, oh… ok, then went on my way. But I did make SEVERAL trips! The anticipation of it was more exciting than the actual event. I would drive down to it often to see if it was up.
Do you prefer being in the studio and creating music or live performance?
They are two completely different things. I really do enjoy playing live. I enjoy the challenge of playing the best that I can every night. People always ask me if I get tired of playing the same songs every single night and I don't. I think that it was such a big part when I wanted as a musician when I was a kid thinking what really excites me about playing guitar and that was the live concert. I really do also enjoy creating music and it is a different feel. But out of the two, I enjoy playing live.
Your latest solo album is called Sound check. Tell me about it.
"Sound Check" is the one that is out now and I have another one that I hope to have out by Christmas called "Cotton City Firehouse". I am very, very proud of 'Sound Check'. Since we are talking about writing, that project was more about melodies. I wrote these great melodies and put some cool chord progressions underneath them. 'Cottage City Firehouse' is a little more about the groove, tones and the ability to play. It is still strong melodies but my approach to writing was different.
If someone were to sit in your vehicle right now, what would be in the CD player?
Actually, you would hear Eva Cassidy. She is a girl that I played with many years ago who had a very tragic story. She died in 1996 at the age of 33 from the deadliest form of skin cancer, melanoma. She and I used to play together when we were in our early 20's. She was a phenomenal singer. Everybody around her how incredible she was except her. She would always argue that there were so many singers better than her. Since she passed away, her music has caught on and she has sold multi-platinum albums worldwide. It is really kind of a sad thing because they keep finding new music of hers and releasing albums. She has around a half dozen records since she passed. I had just purchased her latest release and I have been wearing that one out. I think it hits everyone differently when they hear her sing. I think that people that know her story are moved by her vocals differently knowing that she is gone. I get affected by that as well but also that I knew her and the person that she was. When I listen to her stuff, it is the most emotional thing for me. It really does affect how you view the world around you I am not sure that I have listened to another singer that has moved me that way.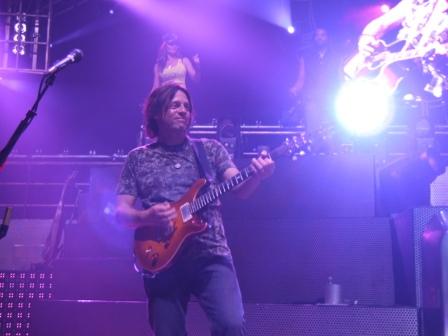 Who would be your ultimate collaboration if you haven't already done it?
I have always been a HUGE Ted Nugent fan. Ted and I had the opportunity to work together a few times in the past and we have also hung out together in the past as well. That was a huge thrill for me. If there would be anyone else that I would really like to collaborate with I just can't think of it off the top of my head. I am kind of a music whore. I just want to work with everybody especially anybody that I looked up to when I was cutting my teeth on guitar and trying to learn music.
What are some of your hobbies outside the music industry?
I like to work with wood and I like to paint as well. Anytime I can combine those two things, it's good. I have a nice little workshop here at the house. My dad came to the states to be an artist and I can remember that I drew pictures before I could write. I think that is where the creative element in me comes from. So, to answer your question, anything where I am creating something from nothing is what I enjoy doing when I am not playing guitar.
Anything you would like to say to your fans?
If you are out to do this professionally, just beware that it's not all sunglasses and autographs. It is still a job and you have to look at it that way. Most successful musicians that I know are the guys who feel fortunate to be doing this and look at what they are doing as a job and not some big reason to go out and party.