The THREE KINGS (also known in circles as THE DREAM TEAM) is a very popular, top call; Nashville based rhythm section consisting of KURT ALLISON (guitars), TULLY KENNEDY (bass) and RICH REDMOND (Drums and Percussion). The key to their success is their "strength in numbers", "us against the world" mentality. Together since 2000 they have toured and/or recorded with some of the biggest names in popular music: JEWEL, STAN LYNCH, LILA McCANN, MICHAEL PETERSON, ROBBIE NEVIL, EMILY WEST, JUDE COLE, LUCY WOODWARD, and many others. The THREE KINGs are currently the recording AND touring band with Broken Bow recording artist JASON ALDEAN. Their playing can be heard on every track of Jason's platinum selling debut which produced multiple top ten hits, including the 1 hit ("Why"). THREE KINGS are also prominently featured in Jason's 4 number one videos on CMT! Jason's second record, entitled "Relentless" was released on May 29th, 2007. THREE KINGS performed every track on this record as well! THREE KINGS were also members of the Lyric Street recording outfit RUSHLOW from 2002-2004. The band's release produced a top ten single entitled "I Can't Be Your Friend Anymore" and a top forty hit entitled "Sweet Summer Rain". This rhythm sections' high energy sound and style are used by Nashville's finest publishing companies such as BMG, EMI, WARNER CHAPPELL, MAJOR BOB, WINDSWEPT, etc. Many of Nashville's major labels have called upon THREE KINGS to showcase their act. The section's time tested, high energy, versatile sound as well as their extreme showmanship and charismatic presentation make them the perfect choice for an artist's recording/showcase or touring band. THREE KINGS are now available as in house PRODUCTION TEAM! Jason Aldean has been nominated for 'New Artist of the Year' on the 42nd Annual CMA Awards to be held November 12th 2008 in Nashville. I guarantee that we will be watching and rooting Jason on for this milestone award. Detroit Music Notes had the opportunity to catch up with Rich, Tully and Kurt during the little 'down' time that they have. Here's what they had to say!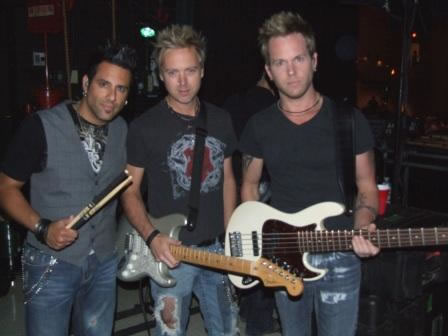 Tell me about the CMT 'ON TOUR' that you are headlining
Rich – It's a 20 city college market tour sponsored by CMT featuring Jason Aldean, Lady Antebellum and Eric Durrance. It should be between 3 and 4 thousand people per night and we are hoping on fantastic ticket sales! This is the same tour that Brad Paisley and Keith Urban have had that transitioned them into the stars they are today. This tour kind of put them on the map. We are hoping that it does the same thing for Jason Aldean. The show is going to have all the bells and whistles…the backdrop, the smoke, the full lighting rigs
Kurt – It's the first headlining tour for Jason. Tully was saying yesterday that it is a good barometer to see where we are at as artists and as friends. The predecessors of this tour have been big. It's been their jump to the next level. It's a big deal for us and Jason!
If I am not mistaken, you guys are the most sought after 'hired gun' musicians in Nashville…
Kurt – I like where you are going with this! YES…next question!!!
Tully – You are right! (Laughing!)
Rich – Sarcastically, in parentheses!!! Traditionally, March through August is primarily the country music touring season. I was looking at our schedule for October and thought, wow. There isn't a single day in October that we have off. We are either touring with Jason, developing new talent with our production company or we are doing sessions for other record companies and artists. In October, we are going to be playing on Mark McKinney's second album who is from Texas…
Tully – We are producing our first female artist
Rich – She is a girl named Taylor Pey who is a pretty, young, talented and very marketable lady. What else do we have? We are doing a record for Holly Hardin who was on America's Got Talent. She is a 19 year old girl from a small town in Georgia and we are doing a 10 song record for her. She requested us for the record. It's great to be this busy. I'm sure there are other Nashville musicians working as much as we are but they are just not as loud and colorful as us!
Kurt – I think that something that might separate us from other rhythm sections is that, like it or not, Nashville is based around studio players and live players. I feel like we have transcended that barrier or those borders of being one or the other. We feel like we are both. So, when we are home, we are in the studio cutting records for other people or doing bigger and better things like producing other artists which I feel is the next big elevation in our careers.
Tully – I really think that we have done well in the last few years being disciplined enough to know that when we play live, we represent the music. We cut the music and when we play it live, it's amped up a bit with a lot of adrenaline and it's a blast. But, we are disciplined enough to know the difference between live and studio. We have a good grasp on what will work on radio and what won't work on radio. The way you approach things in the studio and the way you approach things live is not the same. It's completely two different worlds…you can't compare. When you play live it is very forgiving. Things just happen and they go by in the spirit of the moment, which is great… but in the studio, everything needs to have a purpose and a point. That's the difference between studios and live shows. There are great live players who have all the chops; they have all the licks and the moves. But can they come into a studio and create with that energy in a very short period of time? I think that is what I am most proud of…that kind of discipline.
Rich – Our last band was called 'Rushlow' with Tim Rushlow (Little Texas) as the singer. We went out there and shook millions of hands, met every record programmer in the United States, did free radio shows and opened up for everybody in the industry. That was the beginning of breaking the mold. We played all our own material on our own record. We started seeing a shift toward Nashville that there was a little bit more open mindedness. More and more people are doing that like Brad Paisley, he has his guy's play on his tracks and Darryl Worley has his own guy's play live and studio.
Tully – To our credit, you didn't see that before. When Jason hit the radio, that's when that shift happened. What they were hearing was the difference there and they heard the energy there. I know that with our favorite bands growing up like, Tom Petty and the Heartbreakers, that is the way it was.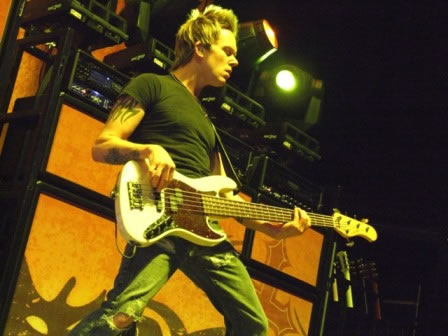 Kurt – It may not have sounded perfect, but there was personality… there was character. Tully, you have a great point. A lot of the bands that we all grew up on had character and personality and Nashville started to get to a point where there wasn't as much personality there.
Rich – And now it's back and it's being embraced. The bands like Petty, Halen, U2 and the Police all are bands and there is no reason that would not work in Nashville. So we refused to be backed into a corner and labeled as one or the other. Yes we are studio guys and…yes, we are producers and musicians! To Jason's credit, we have been busting our butts in Nashville doing a million things but with Jason, he gave us the vehicle to bring it to a national audience. Yeah, we are just doing what we have always been doing, but with Jason, there are people asking… 'Who are those guy's in the videos?' or 'who are those guy's on stage?'
Speaking of video's, do you like making videos or are they just a part of the whole marketing machine?
Tully – I think that we all have a good time doing the videos
Rich – The last one was real long!
Tully – Yeah, it can be a long day but at the end of it, it is very satisfying. It is hard to think about it in this way, but a lot of bands videos are just the bands in the videos. I know Jason feels this way and we feel a little more 'connected' because we plan everything in the videos. We feel like it is a piece of an entity. I am not sure how I would feel making a video that I would just mime the parts; it seems very unfulfilling but it is done every day. We take pride in our stuff. We are a small band; just 5 pieces including Jason and we have such a huge sound. When we came out doing this 4 or 5 years ago, other acts started taking notice. Now, every time we play shows with other acts, they are getting smaller and smaller and becoming very similar to our set up. That is a compliment.
Kurt – Poor fiddle players!
Rich – Don't even get me started about keyboard players! Don't get me wrong, we love having them for color in the studio, but it's just another person to pay on the road! In Nashville, it's all about the song. If you have a good song, it can be played successfully with a 3 piece band!
Kurt – Again, coming back to cutting the records the way we cut them… it gives us the freedom to interpret them how we feel. It's not like we are taking music that other people created. We are taking the music that WE created and yeah, there may be some fiddle or steel on the record, but it is our music and we can do whatever we want to do with it and the people relate to it. People want to see the 'high energy' music…and it is. I think that we have done a great job capturing the spirit and energy of most songs. It may be a steel solo or a guitar solo.
Rich – The recording process is really fun but high pressure. Everything that you hear is usually a second take. We are using an older recording system called RADAR and there is a lot less editing going on. Basically, what you are hearing is what was going on that day. There is no scrubbing and there are no binary codes used to fix and straighten things up. It's the closest thing to going back in time to the old Motown days of 6 or 7 guys' in the room at the same time playing music.
Kurt – Playing in the same room with everybody is great, but it is high pressure. Playing with Jason, we have never had 4 or 5 months to cut tracks. It's an odd situation. For a song that is going to be on the radio for 6 months, we are taking 45 minutes to cut it. You would think there is much more production going into it, but to the credit of the producer, Michael Knox & Jason Aldean, it is their job to bring out that raw energy and capture it. You are really forced to listen to each other and play. With Jason, it really works out because it isn't over produced.
Each song is special to you. What song are you the most proud of?
Rich – Kurt, do you want to start this one off?
I still have a question for you, Kurt… How does it feel to be on a billboard outside of Nashville!
Kurt – I think more than anything, it is cool for my mom.
Rich – Did you get your picture in front of it?
Kurt – I still have not.
Rich – You have got to get your picture in front of it!
Kurt – I thought of hanging out in front of it with my guitar slung over my shoulder and see if anyone notices!
Getting back to the original question…
Rich – People really seem to like 'Johnny Cash'. To me, it seems that it gets a bigger reaction from the crowd than 'Hicktown'. Everyone is bobbing their head and it has that magical beat. Funny story about that song… It was cut as a demo! It was a publishing demo for Warner Chapel Music about 6 years ago and it sat in a can until they decided to upgrade that song (meaning: Pay the musicians again!). They did a little remixing on it and released it on the album. It was cut in less than 30 minutes in 2002. I tell everyone to play your butts off at all times because you never know where your stuff is going to wind up.
Tully – There is a song on our new album, Relentless, called 'Back In This Cigarette' which I am very proud of. It was just the way it was recorded… We didn't have time to fall in love with that song before we cut it. That half of the record was cut in one day. Songs like: 'Back in this Cigarette', 'Use What I Got', 'Break Everything I Touch', 'No' and maybe one other song were cut in that session. I remember that everyone was in a good headspace that day. Back in this Cigarette just had this really good groove in it and I am probably most proud of that song off either of Jason's albums.
You are killing me that you don't play that song in your live set. That is one of my favorite songs as well…
Rich – That song has never been performed live. I think, at one point in time, that song was considered by the label to be released as a single.
Kurt – That was the one song that actually had a couple overdubs on the guitars. It actually has 4 guitar parts in that song and it would probably be the hardest song for us to pull off playing live. Once again, we are playing with no backing tracks when we play live. We are about the only band at this level that still gives it to you straight forward. What we play is what you hear.
Tully - It would be very hard to go see any band at this level and hear just music. It's not going to happen. We are very proud of the fact that we still 'play' music.
Tell me about your gear…
Kurt – Basically I play Paul Reed Smith guitars. They are great to me but they know that songs like 'Hicktown' have to be played with a Fender Telecaster. It is just that sound. I also play Mesa Boogie Amplifiers and that's about it. It's just the guitar and amp. There are some effects but not much. There is no trickery!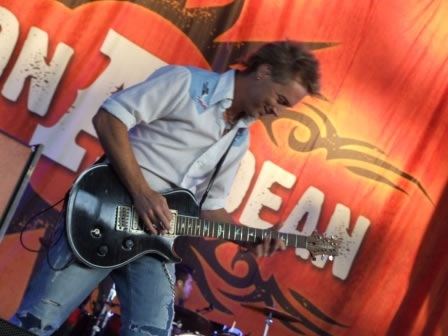 Kurt, What was your first guitar and the first song that you learned to play?
My first guitar was a Peavey T-60…horrible! And a little Crate amp…horrible!!! And my first song learned was probably something by REO Speedwagon… Maybe 'Riding the Storm Out'.
Tully – I have used Aguilar Amplifiers for 10 years now and they have been very good to me. Sadowsky Bass guitars are the best out there. They are modeled after old Fender guitars that I grew up playing. The same guitar that I cut in the studio is the same guitar I take on the road with me. So there it is. Real simple… Two companies that have been real good to me. The first songs I learned was 'Crossroads' by Eric Clapton and 'Sunshine Of Your Love' by Cream. My dad actually showed me how to play 'Crossroads'.
Rich – I'm not sure I learned songs, but I was really into Peter Criss (Kiss), Van Halen & The Police. I had a garage band and I remember playing 'Love Hurts' by Nazareth. I am playing Sonor drums, Sabian cymbals, Remo drum heads, Pro Mark drum sticks, Rhythm Tech Percussion, Grover Percussion and Danmar Beaters and everyone is just killer to me. The Germans have it down. They make beautiful drums I love the sound of them. I use them on the road and in the studio. No matter what sound I want, they have them. We all love the sound of each others phat tone.
So, what's next for you guys?
Rich – Probably today we'll hit the gym and then grab a bite for dinner! As far as the future, we are finishing up Jason's new album and we have 6 songs to work on. We have 2 songs every 3 hours so that makes 90 minutes per song. That is unheard of in this industry.
Kurt – I can't leak any information about it but I can say that we are taking it back toward Jason's first album. It is very country and very cool. The first half we cut was great songs that were very 'vibey' and cool but this half is going to be a little bit more of the first record. That is all I'm going to say!
Rich – Jason's music is 'hook laden' but at the same time the lyrics have a deeper quality.
Tully – That is a credit to him and Michael Knox. I don't want to say this and sound negative, but I think they have made a point to not sell out. Lyrics do matter to them and even though it would be easier to produce more radio friendly songs like 'Hicktown', they value the quality of the song and its lyrics therefore making the songs great.
What is going to be the next single off 'Relentless'?
Kurt – I'm not sure they have decided what song is going to be next. It very well could be a song off the upcoming record.
Rich – And we are talking about maybe having a release date around late spring or early summer 2009 for the new album.
Tully – It all depends how 'Relentless' goes. If it shoots up there then we'll get another out there.
Kurt – You never really know until the current single is peaking. They try to make the judgment call at that time as opposed to too far in advance. It's always hard to tell how the business is and how radio is.
What do you like to do in your spare time?
Rich – Spare time? What is spare time!
Kurt – Well, I probably have the good fortune over these two guys to have a little bit more spare time on my hands. Rich has a girlfriend and Tully has a wife and young child. I don't want to take his answer away from him. I am the only one who doesn't have that, um…. (an unrecognizable voice say's ball and chain!)… No! I didn't say that! I am not sure what to say I do with my spare time. House work? Seriously!
Rich – To keep this machine rolling, each and every one of us have responsibilities to Jason and to the outside sessions, showcases and production gig. We have three artists now; three clients that we are trying to get songs recorded for and get signed to record labels. There is not a moment's peace. I know that I am always on the phone or computer.
Kurt – I think that is the only way we feel that we can continually succeed is to push it, push it and push it. We never have rested on our morals of anything we believe in. Like Rich was saying, I believe that we have to get ourselves to the next step in our spare time.
Tully – I don't think free time exists. I believe it is time in between things…which is catching your breath. When I have some time, I take my son to the park. Late at night, I spend catching up with the family and catching my breath. It certainly is a blessing to be this busy. If we had sat and rested at some point in our career, we wouldn't be where we are right now.
Rich – We are out with Jason on Thursday, Friday and Saturdays. That leaves us Sunday till Wednesday to schedule things. We have record companies calling us for showcases and we have to find time and places to schedule rehearsals with the artists; then we have to get our instruments delivered to the studios. Then we go in and do the sessions and if there is time…
Kurt - …if there's time, you are going to the bank…going to the post office…having lunch…
Rich – I try to never schedule lunch alone. I try to make it a social event so I can catch up with everybody in my 'network'. As the years have gone by, we have met thousands of people in this industry and by now and we have to try to keep up with everyone or they start saying 'hey, I haven't heard from Redmond in a while!' I believe that everyone that comes into your life is for a reason and you have a responsibility to keep up with them socially and professionally so we are always having lunch, dinner, cocktails or coffee with people we know. We are all in this together and I am out to help people reach their goals and hopefully they have me in mind as well. If I can't do a gig, I send it out to another drummer and I hope that good karma goes out into the world and they remember me. It doesn't always happen!
Is being on the road everything that you could have imagined growing up?
Kurt – If you really want to know what being on the road is like… we are only clean about 3 hours per day!
Tully – If you would have told me when I was a kid that I would be playing with the most amazing people in the world to the most amazing crowds in the country, getting free gear and making a great, fulfilling living playing music, I would have thought that going to the moon would have been easier. So, in playing at this level and having no down time and to be this busy is extremely lucky and we will never take it for granted.
Rich – To Tully's credit, he is the only one of us 'Three Kings' that has never had a day job other than playing his bass guitar. How long have you been playing for, Tully?
Tully – From age 16 to 21 I played in cover bands around New England. I was fortunate to grow up in a town that had a lot of live music and a lot of venues to play at. Not everyone has that opportunity. Rich was smart and actually went out and got a degree in music and Kurt and I are the epitome of 'street players'. We were both self taught players.
Kurt – That's where Rich has it; and I am glad he does. He helps us with the whole theory of things. Sometimes we will get into a studio and the chart looks like Greek or something we will turn to him and he will read us a figure just like that and then there it is.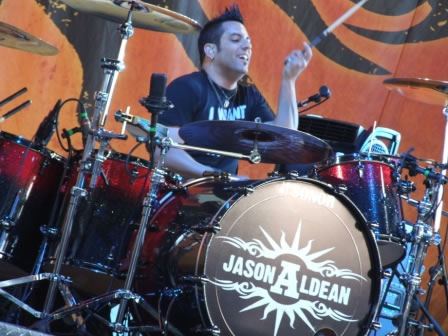 Rich – It's a good personality mix. I took it upon myself to go around the block and learn a bunch of crazy different styles that I don't necessarily play every day but it percolates in me and sometimes it rears its ugly head. Even when Kurt-man-do has to do a real country type song, it sounds like a rock and roll god tipping his hat to the country girl! He just put's his own slant on things. The three of us are a fun thing because you are only as strong as your weakest link and the sound comes from the collection of the three personalities.
Kurt – What we talk about a lot now is… does it make sense to the song. Yeah, it may sound cool, but does it make sense to the song. I know for a fact that when I moved to Nashville I didn't have that thought process…
Rich – It was all about picking up chicks!
Kurt – Yeah, but we have evolved in a way that we really think about how it makes sense in the song. It's hard to find people that are all on that same page. I can say that all three of us are on the same page. When you are talking about a rhythm section, if one guy is in his own world, you may as well go home.
Rich – The funny thing about these three characters is that Nashville is a town where every man is for himself and every one is a gig jumper. I have a couple of colleagues that have a resume a mile long. They probably go play with a couple different acts a year… and I've been there. But once we started playing together, we realized that it's not easily accomplished to have three people together with a common goal.
Kurt – People say that they are there for a common goal but when someone gets put to the test getting offers with other people that may pay more or may be better situations they tend to wander. Ultimately, we know that our strength is in being a section. I see that in the next 5 to 10 years we could emerge as major producers in the music scene and I think that will really take off for us. We are taking the Madonna approach to things… We plan to dominate the world!!
Links: