DMN – What were some of your first jobs before getting into the music industry?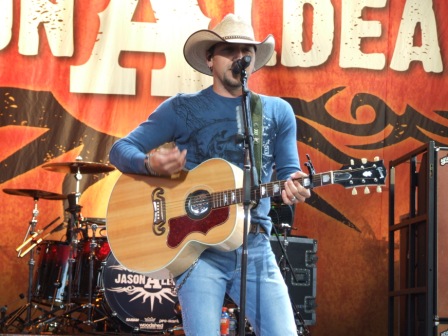 JA – I drove a delivery truck for Pepsi – Cola. I also worked at a place where I sold cell phones and pagers. I worked at a grocery store bagging groceries. Those were probably the main ones. I worked for a place called Discovery Zone which is kind of like a Chuck E Cheese's… That wasn't a very cool job!
DMN – How did you get into the music industry?
JA – My dad played guitar and sang a little bit and I think that got me interested in it pretty early on. It wasn't really till I got older; probably a teenager by then, that I listened to music and started thinking that it was something that I wanted to do for a career but my dad was the one who got me interested in it at an early age. He taught me to play guitar when I was very young.
DMN – What was one of the first songs that you learned to play?
JA – One of the first songs that I learned to play was 'My Home's In Alabama' by Alabama.
DMN – What type of guitars do you play and what is your setup?
JA – I play Gibson acoustic guitars. It is a Gibson J-150. I don't really have a setup. I run the guitar direct and I have them equalize it in the front of the house. I used to run it through a Fender Acoustisonic amplifier and, early on, we didn't have room on the bus for my amp so I started just playing direct and we kept it that way.
DMN – What are some of your hobbies outside of the music industry?
JA – The main thing is golf. I like to get out and play golf. I try to do that three or four times a week. I also like to go fishing. Those are two of the things that I like to do that are kind of quiet and it gets me away from all of the craziness that goes on out here sometimes.
DMN – Since you received your ACM for Best New Vocalist of the Year, has that changed your approach on music?
JA – I don't think that it has changed my approach at all. Those are things that make you feel like you have accomplished something, you know? It makes you feel like you are doing something right. My theory is that if you are doing something right; don't mess with it too much. It has given me a sense of satisfaction that people have taken notice of things that we have done and the ultimate compliment that an artist can get is a gold or platinum album. The fact that people are going out and buying your record is the ultimate goal. The ACM nominations and awards are great but the ultimate compliment is someone going out and buying your record.
DMN – What is your favorite song to perform?
JA – My favorite song to perform is Johnny Cash.
DMN - Your new album almost was lost due to a fire at Nashville's Treasure Island Studio. What happened?
JA – Well, the studio burnt down while my album was still in their drive. They were just getting ready to mix and master the album the following week. I was out in Las Vegas shooting the video for 'Johnny Cash' and my producer had called and told me that the studio had burnt down. Fortunately for us, it stopped burning right at the control room where the masters were. It was kind of scary but they were able to save it. That experience taught us that we need to have the masters stored in more than one place.
DMN – On the album, Relentless, you have a collaboration with Miranda Lambert called 'Grown Woman'. What would be your ultimate collaboration?
JA – The ultimate collaboration for me would be with the group Alabama. I would love to do something with those guys but there are lots of people that I would love to work with. Tracy Lawrence is one artist, and John Anderson is another which I just had the opportunity to perform with at the Grand Ole' Opry. There are a lot of guys but the ultimate would be with Alabama. I'm a huge Alabama fan!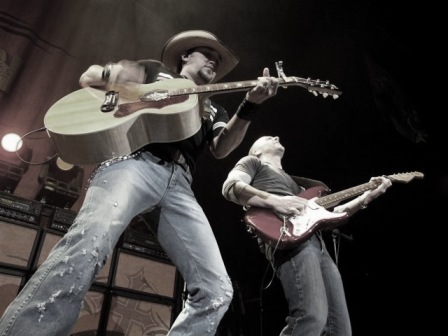 DMN – What do you look for in a song?
JA – I look for something that musically catches your ear right off the bat and one that has a lyric that has something cool about it. If the music catches your ear off the bat, then you need the lyric to hold your attention. And for me, it has to be believable. It has to be something that I would say. I really don't think its rocket science. People make it harder than it has to be sometimes but for me it is that simple.
DMN – Who has been your influences and your biggest mentor?
JA – My influences are people that I've already mentioned like Alabama, Tracy Lawrence, George Strait and John Anderson. Even people like The Allman Brothers, The Marshall Tucker Band and Charlie Daniels band were great influences. As far as mentors go … There have been many people who have helped me out through the years and a lot of people have given me good advice over the years. Even some of the guys that I just mentioned like Tracy Lawrence. He has kind of taken me under his wing and given me good advice about things in the music business because he started in it at an early age. I've been able to see everything that it has to offer; all of the ups and downs of the business. My parents have also been a big help in everything too. There has been a lot of people!
DMN – If I found your I-pod, what would I find on it?
JA – You would find a little bit of everything on it. There's Lenny Kravitz to George Jones and everything in between on it. There's some Guns N Roses, Allman Brothers, Oasis and a little bit of everything
DMN – When and where were you when you first heard yourself on the radio? And what song was it?
JA – It was our first single, Hick Town and I was in a Kroger parking lot. It was about 10 o'clock at night. I was going over to a friend's house and I stopped into a grocery store. I was just about to get out of the car and they played it. I shut the door real quick and drove around the parking lot so I could hear it. It was an amazing feeling.
DMN – Any embarrassing stage moments that you would like to share?
JA – The main embarrassing moments that happen are when you fall on stage or forget the words. And that happens a lot. Well, maybe not a lot, but pretty regular. You know, when you sing a song a thousand times, you are going to forget the words to it like maybe five times; so, it's going to happen. There have been times when I've tripped on things on stage and there's not really a graceful way to recover from that. It's embarrassing, but you get up and move on and try to forget about it and laugh it off.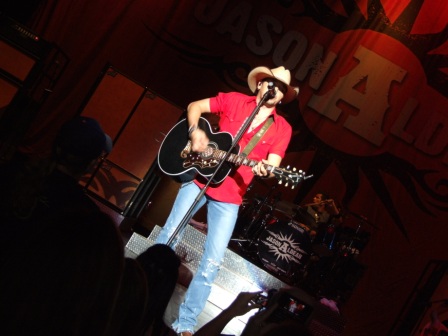 DMN – Do you maintain your own myspace page?
JA – I don't do the day to day stuff on there but I do go and check it out and see what people are saying but I am a computer idiot! I don't get on there and do any of the technical stuff or anything like that.
DMN – What was the first song ever performed and your first song learned on guitar?
JA – The first song that I ever performed was by Merle Haggard called 'Silver Wings' and John Anderson's song 'Seminole Wind'.
DMN - What is the next big thing on your 'Things to do in Life List'?
JA – Well, my next big goal. My second daughter was born last year so that was a big one and we went and bought some land and we are in the middle of building a house which was big on my life goals list. After we get that knocked out, I don't know. I'll be pretty comfortable. I have both my kids healthy; I'm only having two and they're both here. So I'll have my little piece of land and my house and I'll be pretty happy.