Johnny Van Zant is awfully busy these days. If he is not fronting the band Lynyrd Skynyrd, he is supporting Van Zant, the country collaboration with Johnny and his brother, Donnie, from 38 Special. Johnny said "I have always wanted to record an album with Donnie, and we are so proud of what it has done." Currently on the road touring with the aptly named "Rowdy Frynds Tour", filling the bill is Hank Williams Jr., 38 Special and Lynyrd Skynyrd. The new Van Zant album is set to release on Columbia Records August 18th called "My Kind Of Country". The first single, 'That Scares Me', hit the airwaves on April 16th. With all that going on, Johnny took time out of his busy schedule to conduct this interview with Detroit Music Notes. It is with great pleasure to present this interview with one of my long time idols, Johnny Van Zant. Without further delay, Mr. Johnny Van Zant.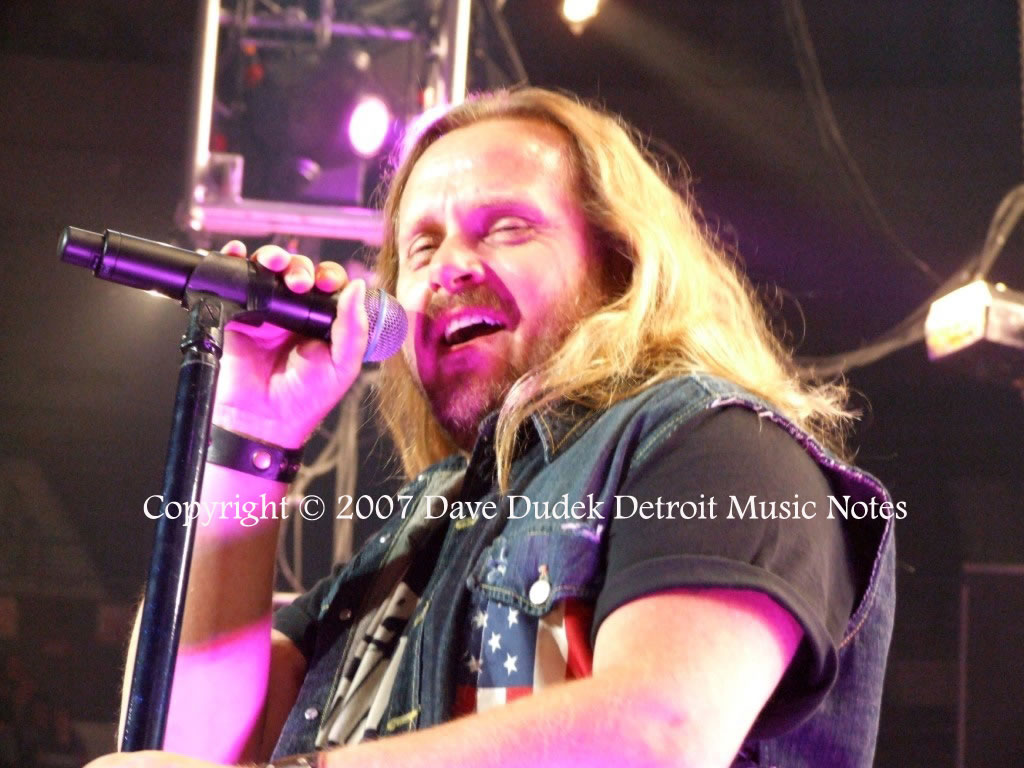 1) How is the Rowdy Frynds tour going?
It's been going great! When this whole thing started out, people questioned the pairing of Hank Jr. and Lynyrd Skynyrd on the same bill. We all think that if you are a Bocephus fan you are a Lynyrd Skynyrd fan and if you are a Lynyrd Skynyrd fan you are a Bocephus fan! It's been working… selling out shows!
2) Is there a new Van Zant Cd on the horizon?
Oh yeah. The new CD is called "My Kind Of Country" and the first single is "That Scares Me".
3) How about a new Skynyrd Studio Album? Are you in the process of recording?
We have been writing material and we have a lot down. We are just looking for a producer that we would like to work with.
4) Lynryd Skynyd has always wrote songs about experiences. Is it safe to say that "Get Right with The Man' follows that concept?
Is it safe to say? Absolutely. Every song that we write is written on an experience that we have had or a family member had or a friend has had. The song 'Things I Miss the Most' is about the experiences of things on the road. Heck, I have an old dog who, I swear, can tell when I am a mile up the road on my way home!
5) Who inspires you today?
Well, on a personal level, my family inspires me and the Lord Jesus Christ.
6) What were some of your first jobs?
Aw Man! I've been everything from a paper boy to a truck driver. People in the music industry don't just fall into it. They have all paid their dues and come by it honestly!
7) Van Zant is considered to be the first name in southern Rock. Defining an entire genre of music. How do you feel about that statement?
We have had people come up to us and say that our music has changed them. What do you say to something like that? It's quite an honor that people feel the way they do with our music.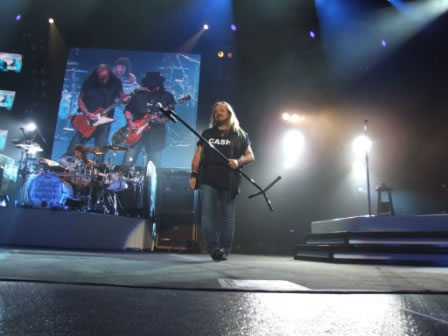 8) My favorite Skynryd album is "Endangered Species". Acoustic Skynyrd songs have always been a staple of mine on hunting and fishing trips and around campfires. Could there be a follow up to Endangered Species or stripped live songs?
We'd love to cut another acoustic performance. We love the acoustic stuff!
9) Favorite song to perform Live?
I'd have to say "Simple Man". The lyrics say it all in that song.
10) Current CD in your vehicle or on your IPod?
The new Van Zant CD. I just keep listening to the different mixes for each song
11) Hobbies of yours?
I live in Florida. My biggest hobby is fishing.
12) From Trace Adkins Ladies Love Country Boys to Jimmy Buffet's Bama Breeze, how does the band feel about all the new songs referencing Lynyrd Skynyrd?
Man, we are just humbled that people keep referring Skynyrd in their songs. We think it is an awesome tribute to the Lynyrd Skynyrd family.
13) What is the next 'BigThing' on your 'To Do in Life' list?
Probably going fishing!
14) What has been the most special part of your career?
Definitely joining the Lynyrd Skynyrd band.
15) Any parting words for the Lynyrd Skynyrd army of fans out there?
Yeah, Thank you for coming to the shows and buying the music. It's the fans that keep driving Lynyrd Skynyrd. If the fans keep showing up, Lynyrd Skynyrd will keep performing!
Official Website:
Myspace Sites: