What is new in the 'Land of Leverty'? (current projects)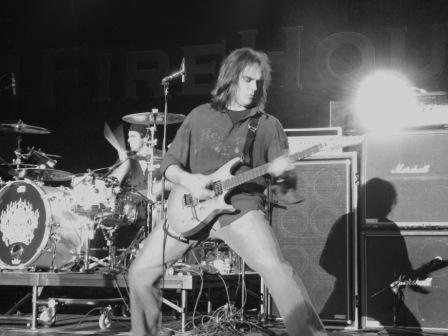 Right now, I'm working on an album of instrumental music inspired by musicians like Steve Morse, Jeff Beck, Steve Lukather and my other instrumental influences. I'm also really enjoying being a father, husband and ice hockey freak.
Creatively, how do you approach song writing… What is your process for writing songs?
It really varies from song to song. Usually, I just go into my studio and start playing guitar. After a few hours (or days sometimes) I get an idea that sparks a fire.
Describe your current guitar setup and tunings.
I play Grem Guitars exclusively. www.gremusa.com. I have never played, seen, or heard any guitar that comes close. They make a Bill Leverty Signature Guitar that has the ability to get a LOT of different tones out of it. The company is located in Ft. Wayne, IN and they make phenomenal instruments.
For amps, I'm using the Randall MTS modular heads and cabinets. The company makes about 13 different preamp modules and you can hot-swap them into their heads. The modules range in tone from clean "Blackface" to liquid high-gain saturation. I'm really impressed with their tone and performance.
I also use an MKS Pedal Pad all wired with MyStarSound cables. In the pedal board I use a Tube Screamer for solos and a Boss compressor for my clean sound. I run a Line 6 Delay pedal in the effects loop of the Randall head. That's it right now.
We tune down ½ step. I've recorded a few songs with different tunings, but it's pretty rare.
Acoustic preference?
I've been playing Yamaha Handcrafted Acoustic Guitars for over 16 years now. They are absolutely amazing live and in the studio.
What are the major differences of touring now compared to the 1990's?
We're playing smaller venues in the cold months, but in the summer, we play a lot of big festivals. We're flying now to most gigs rather than leasing a bus which now costs you about $1,000 per day. When we fly, we actually save money. The down side is that we get a lot less sleep these days!
What are some hobbies of yours?
Ice Hockey is my main hobby. I love to play, and I love to watch the game, on TV or live. Even though music is my career, there is still a side of me that looks at it as a hobby because there are so many facets of the industry that make it possible to dabble with that aren't necessarily career fields for me.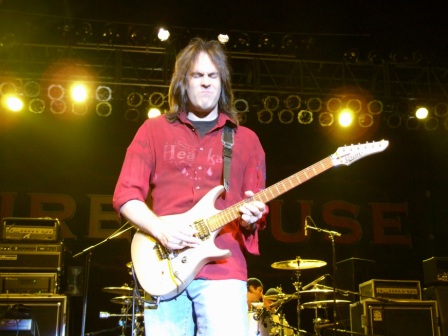 What is your favorite solo to play?
I love playing all of them, but I'm more excited about playing the more challenging ones like "Reach For The Sky", "Holding On", "Helpless", and the other ones that require me to really think about what I'm doing.
Favorite All time song?
It varies from time to time. Right now I'm going back to "Ridin' High" by the Dixie Dregs.
What was your first Guitar and what was your inspiration?
My first guitar was a Framus classical guitar. I was inspired by music on the radio, mostly Southern rock bands like Skynyrd, Allman Bros., ZZ Top, and The Outlaws. Then I got into Ted Nugent, then Van Halen, then a bunch of fusion guys like Steve Morse, Allan Holdsworth, and Al DiMeola.
What were some of the first songs that you mastered on guitar?
I'm still working on mastering SOMETHING. I'll always consider myself a student. The first song I learned to play was "Sweet Home Alabama". I found out years later that I was playing it wrong when I met Ed King, who wrote it, and he showed me the right way to play it. I'll never forget that.
Some of your first jobs were?
I had so many jobs as a kid from paper boy to fast food worker to telemarketer. Once I got my driver's license, I worked in a grocery store for a few years and worked my way up to Assistant produce manager. I then worked in a music store and ever since then, I've made my living in the music industry.
What is your career highlight?
Winning the American Music Award for best new artist in 1991 was a big one. We were all over the radio and MTV. We were doing 20,000 seat arenas and selling them out. It was a great time.
What is your favorite thing about touring?
The hour and a half playing the music is the greatest part of touring. The other twenty-two and a half hours can get pretty rough at times, especially with all the traveling and lack of sleep. We generally don't have time to go check out the towns we're in. We're lucky if we get dinner and a shower!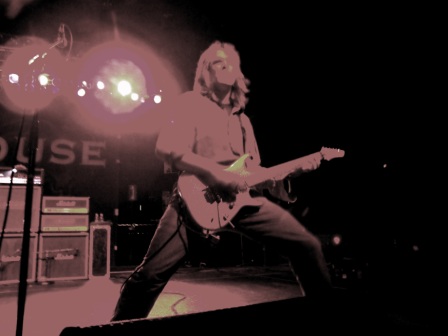 What is more satisfying? Touring or creating music (writing creatively)
They both have a different form of satisfaction. Touring is instant gratification. Writing and recording takes a lot of time, but once you're done and listening to the final mix, it's one of the greatest feelings in the world.
What CD are you currently listening to in your vehicle or IPod?
Dixie Dregs Industry Standard is what's in there right now. Everything the Dregs did is a masterpiece. I had Industry Standard when it came out in '82, but all my vinyl was stolen. I just got this album from Amazon. It's such a great album.
What is your next big thing on your 'things to do in life' list?
I want to put out this instrumental album I've been working on. So far, I've got 8 songs done. Once I have another 2, I'll have enough for an album. I want people to hear this side of me as an artist. Hopefully, this album will give listeners a different perspective of me as an artist.
Is there any plans to support 'Wanderlust' on the road?
No. My solo projects are side projects. If I were to tour on Wanderlust, that would put the other guys out of work, and I'm just not that selfish.
If you weren't the 'guitar god' that you are, what career would you see yourself pursuing?
Thank you, but I certainly don't consider myself a "guitar god" by any means. If I couldn't make a living playing live, I'd try to do more recording and producing. If that didn't work, I have no idea. Are you hiring?
Is there anyone that you would like to collaborate with that you have not had the opportunity to yet?
I'd like to write with all my heroes like Jeff Beck, Steve Morse, Steve Lukather, Eddie Van Halen, etc. There's a very long list of people I'd love to work with.
And finally, any words of wisdom to anyone wanting to strap on a six string and take to the stage?
I would say that you don't have to be good to make it, but if you like playing the guitar, do it. Have fun. Play what you love. Try to learn as much about music as possible. Maybe you'll get lucky and make some money. If not, you're still having fun, right? That's what it's all about.