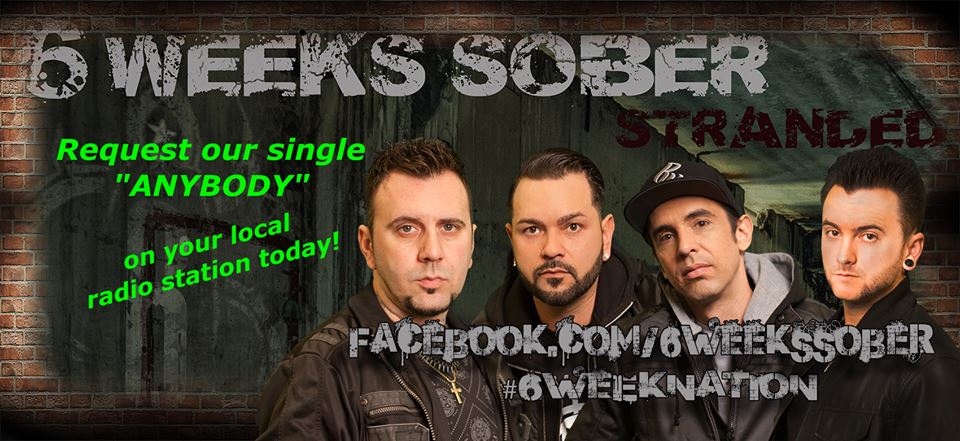 6 Weeks Sober is a hard-hitting rock band from Oakland, Ca. Formed in June 2009, drummer T-Roy, guitarist Roman, and bassist Niko, joined forces to create their vision of the ultimate rock band. With new vocalist Eric Crossley joining in April 2012 this newly formed unit is rebuilding a solid fan base in the Bay Area and taking their back on the road March 2014 on "THE MONSTERS OF ROCK CRUISE". As members they have shared the stage with Papa Roach, Pop Evil, Buckcherry, Tesla, Non-Point, LA Guns, The Dreaming, Trapt, Revelation Theory, Veer Union and countless other great acts.
With releasing their first single to SIRIUS/XM Radio the Summer of 2012, "NOT INTO YOU" has helped the band reach out to fans all over the US. Gearing up to record their debut record and release it the beginning of next year 6WS has created a sound that is sure to appeal to rock listeners of all types and ages. Their high level of creativity, experience, and strong grasp of music allows them to compose a limitless range of songs- from the most radio-friendly to the most underground & hardcore arrangements.
With a new lineup in place, brand new dot.com on the horizon, and a record to follow 6 Weeks Sober has emerged upon the scene and is here to put Bay Area Rock back on the map. Keep updated at www.facebook.com/6WeeksSober.
Six Weeks Sober is an interesting name for your band. How did you come up with it?

It's kinda funny how we came up with it. Niko and our guitar player, Roman, and myself came up with it. We were all 'hired guns' for another project in 2008 and things weren't really working out with our vocalist at the time. There was a lot of weird stuff going on at that time and I remember we were in the airport and our vocalist said that when we go on tour, it was going to be totally dry. There wasn't going to be any alcohol. Now, we toured six weeks on and six weeks off and I thought to myself, I'm a grown ass man! If I want to have a drink, I will! So as Niko and I had ourselves a beer at the airport bar, I looked to him and said "how about Six Weeks Sober" as a band name? It kind of stuck from there.
How would you 'define' your music?

If you're looking for an answer of who we sound like, I can say that with the writing process, we don't try to sound like anyone. Four of us get in a room and let it flow and see what happens. We've played with the Papa Roach bands, the Buckcherry bands, which is also from the Bay area where we're from, and it can be categorized in that area but with the influence of all the 80's rock era of Tesla, Skid Row and more.
Niko-Yeah, being from the Bay area, we grew up with all these different music sounds… the Rock, Hip Hop to classical and jazz. We just wanted to mix all those influences up into one and make one big sound!

How did you guys get together and form the band?

T-Roy-Niko and I knew each other for a while. I was in another band and we were looking for a bass player and Niko tried out. That band fizzled out but we made friends. The other part of the group was put together with us as a 'hired gun' for this other singer in the area and that is where we met Roman the guitar player. We left that tour with that cat and came back to the Bay and started looking for a vocalist. We found one in 2009 but that only lasted with him till 2012. So we did a Craigslist ad and we found Eric. I think he was vocalist number 13 that we tried out and it just clicked. As soon as he got into the room things began to happen. So we started to write together and it just started working. I think that was in 2012.
Debut album is due out in March 2015. What are some of the stand out cuts for us to look forward to hearing?
T-Roy - They all have a different meaning to us and yes, we are currently mixing the tracks.
Niko - Today's track is "Somebody Out There" and that is one of my favorite ones we are working on right now. It's kind of like an old school Limp Bizkit song meets Incubus song with a good flow to it. None of us are 'married' to our part so we are all open to whatever sounds great and adds contrast.
T-Roy – Being our debut album, it's kind of crazy how it all came about. We ended up doing the 5 song EP with Chuck Alkazian (who we are working with now) back in 2012 and we had a track called 'Not Into You', which was my favorite track from that EP. We ended up getting some Love from Sirius Radio when they started spinning it. We toured after that in support of the EP and we ended up going through several 2nd guitarists during that time.
Niko – We currently do not have a 2nd guitarist. What we are doing is hiring someone for the 2nd guitarist when we go out on tour.
T-Roy – That's what we're going to do when we come back to the Detroit area in June and July is hire a cat for the part. But, since we went through that, it slowed down the production of the new album because we had to keep showing someone how to play the part and then the changes and all that. But here we are in Detroit FINALLY getting the new album together with another 5 new songs. My favorite on the album has to be the song 'Destination'.
Niko, How long have you been playing bass?
Well, I actually started playing guitar when I was four years old. I used to bang on a tennis racquet to Elvis Live in 69 and my mom would get mad when I broke the strings on the racquet and I'd end up crying! But it was cool! I started playing in a band and I picked up the bass once at practice and it just felt better. I just liked the rhythm of it better and one of my favorite bass players was Cliff Burton of Metallica because he made it more of a 'guitar bass player' with more melodies and stuff so it isn't just contrasting the drums. That's how I like to look at it too by being a foundation of the rhythm section.
What about you, T-Roy?
I'm a self-taught drummer who has a father who has had some success in the drumming world!

Yeah, let's talk about that for a minute. What is it like being the son of Troy Luccketta the drummer for Tesla?

It's kind of crazy because I've never looked at it like that. Growing up when Dad was touring with Tesla and he was gone, it was no big deal… it was just his job. Some Dads are firefighters, some are police officers. Mine is the drummer for Tesla. It was never weird for me when I went to watch him play in front of thousands and thousands of people and it never hit me until I was about 19 years old when I stopped and thought… wow. Damn, my dad is the drummer for Tesla. How bad ass and cool is that? But when I was a little kid, it never really grabbed hold of me as to what he did and how cool that was. It wasn't until I got a little older and started taking music a little more serious did I realize how cool it was.
Was it a romanticism like Father like Son with the drums and has he given you any advice for playing?
Yeah, I was drawn to the drums because of my Dad. It has been his passion and it now is mine too. As far as advice, he has given me great Father/Son advice but we have our differences and I'm a different animal and have a different approach to it behind the kit. A lot of people who watch me play tell me that they see many similarities in my playing to my Dad's. I've just been around drums all my life. I am totally self-taught and we always have had a drum set in our garage available for me to play while I grew up – which is where it all started. It was around 12 years old when I started to take it seriously.

Did you practice playing along with Tesla songs?

No, actually, not at all! I was in 6th or 7th grade and that Nirvana Unplugged record came out and 'The Man That Sold the World' came on and I listened to it and started playing along with it. That was the first song I ever learned on drums.
What's the process for writing songs?
Niko – We all just go in to a studio and it starts with an idea. As I said before, none of us are married to any one part of this process and all it takes is for one person to suggest that we write a song and we'll all be like, cool... what do you have? Next thing you know, we have a beat to the suggestion and we'll just run with it.
What are some of your influences?
T-Roy – I can remember going to see Morgan Rose with Sevendust and I've never seen anyone play like that. It changed my world. I've been influenced by a whole bunch of bands like hearing Korn in seventh grade; that changed my world too. I also remember hearing Fear Factory drummer Raymond Herrera with the double bass and hearing how tight it was made me add a double bass to my kit.
Niko – With me being more of the rhythm section, I get more into the hieroglyphics and I get into the hip hop but a big one for me was Incubus. They had a good jazz bass, round sound that doesn't just play behind the band. Another big one for me is Duff McKagon from Guns and Roses. He just sticks out and writes his own melodies.
What are some of your highlights as a band so far?

T-Roy - Six Weeks Sober was actually on tour and Tesla was on tour as well. We were in Ohio at the time and Pops hit me up and said 'Hey son, what are you guys up to tomorrow?' (which was a Tuesday) We were on an off day with a show scheduled on Wednesday. Pops said that their opening band just canceled on them and they needed an opening band. As I said, we were in Ohio and they were in Missouri. We loaded up the bus and started heading to Missouri to open for Tesla! It was a packed show with thousands of people. That was big! Also when we opened up for Papa Roach near our home town in the Bay area; that was a big one for me because it was the first time I've played in front of that many people.
Niko – We were playing with a different band on a New Years Eve. We were playing with Pop Evil and he had broken his ankle while on tour. It was a big show for Macklemore, probably the biggest to date, so Pops (Troy Luccketta) came up to the show, learned all the songs while flying out here and played with us. I kept looking behind to see Junior and here it was Senior looking back at me with this look in his eye like 'let's do this!' That was a good moment for me, for sure!